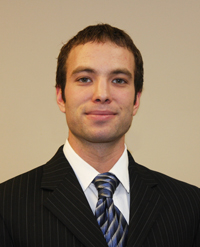 Ryan Leggett, BaSc., E.I.T.
Mr. Ryan Leggett rejoined FDi in the summer of 2010 after graduating from the University of British Columbia with a degree in Mechanical Engineering. He previously worked at FDi during two university co-op semesters.
Mr. Leggett is our newest member and will be bringing specific expertise in the area of technical animation. Additionally, Mr. Leggett is experienced with the accident reconstruction process and related software.
This sample is one of the earlier animations that he produced for us (the file settled soon thereafter).
Similar to the animation process is that of creating demonstrative aids, which are highly effective when describing complicated situations or spatial ideas. Mr. Leggett can work with you to help you describe and explain by means of still renders your in-depth concepts.